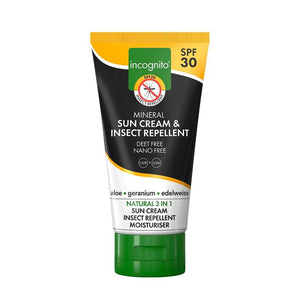 Mineral Suncream & Insect Repellent Lotion SPF30 (100ml)
Triple Action 3-in-1 Suncream, Insect Repellent & Moisturiser

SPF30 UVA + UVB rays

DEET-free

Soil Association Certified COSMOS Natural




Organic and Vegan certified

100% Recyclable Sugarcane Plastic Packaging

Usable for the whole family, from 6 months old onwards

Contains Citrepel 75 PMD, a more concentrated version of PMD




PMD is recommended by WHO, NHS to protect against insects
Incognito® Suncream & Insect Repellent SPF30 is a nano-free revolutionary tri-action sunscreen, moisturiser, and DEET-free insect repellent. With unprecedented broad spectrum SPF30 protection against both UVA and UVB rays, this non-greasy lotion will protect the skin against both sun damage and ageing, leaving you oil-free throughout the day. Simultaneously, it provides camouflage from biting insects, especially on your beach outings!

Packed full of natural and organic ingredients, the active ingredient is plant-based PMD: the same anti-insect ingredient in Incognito®'s award-winning insect repellent spray and lotion. PMD is NHS and Public Health England approved and recommended for high-risk areas to protect wearers against mosquito-borne diseases.

Clinically tested to protect against Aedes aegypti - Zika & dengue-carrying mosquitoes for a minimum of 5 hours. IMPORTANT:  This is a predominately day time biting mosquito!

We have combined sunscreen and insect repellent together for a very specific reason. When insect repellent & sunscreen are applied separately, the level of efficacy each product offers can be reduced. This can leave users unknowingly vulnerable to UV damage, as well as bites & stings. Incognito®'s triple-action sunscreen ensures the efficacy of both SPF and insect repellent is maximized without harmful effects on the environment.

Citriodiol is a form of PMD similar to the version of PMD we use. Citriodiol is derived from the lemon eucalyptus plant. We use Citrepel 75® which is a more concentrated form of PMD. It has 75% purity compared with Citriodiol which has a purity of 65%. Citrepel 75® is known for its ability to stave off viruses and its insect repellent properties. Look at our blog section for more information on this.

Most traditional sunscreens include chemicals oxybenzone & octinoxate, resulting in corrosion of coral reefs & damage marine life. Incognito®'s sunscreen is reef-safe, formulated with natural ingredients and does not contain any of these harmful chemicals.

Certified by the Soil Association as COSMOS Natural, the ingredients inside the Sunscreen Insect Repellent SPF30 have been rigorously tested; there is no GM, and we never test on animals.
A COSMOS Natural standard also ensures that both harmful environmental effects and waste production are minimized. In addition, the tube is made from sugarcane plastic which has a positive carbon footprint and is 100% recyclable!

Effective Against
Mosquitoes, Midges, Ticks, Sand flies, Land leeches, Black flies, Stable flies
Directions
Shake well before use. Apply liberally 15 minutes before sun exposure or as soon as insects are bothering you. Reapply frequently and always after swimming and perspiration. Store away from extreme temperatures and out of direct sunlight.
Precautions
Keep babies and children out of direct sunlight. Overexposure to the sun is a serious health threat: no sunscreen provides 100% protection against UV rays. Avoid eye area. In case of contact with eyes, rinse thoroughly. Suitable for the whole family including babies from 6 months. Warning: failure to apply/reapply extensively will lower the level of protection significantly.
Ingredients
Aqua, Propylene Glycol, Zinc Oxide, Menthanediol (plant based PMD), Caprylic/Capric Triglyceride, Isoamyl Laurate, Polyglyceryl-4 Diisostearate/Polyhydroxystearate/Sebacate, Titanium Dioxide, Cetearyl Aclohol, Glycerin, Magnesium Sulfate, Polyglyceryl-2 dipolyhydroxystearate, Polyglyceryl-3 Dissostearate, Aluminium Hydroxide, Stearic Acid, Tocopherol, Citrus bergamia Peel Oil Expressed*, Lonicera Caprifolium Extract, Lonicera japonica Extract, Aloe Barbadensis Leaf Juice Powder*, Citric Acid, Citronellol, Linalool, Limonene, Citral. *Organic Ingredients. 100% natural origin of total.
---
We Also Recommend