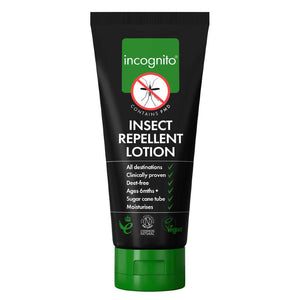 Mosquito Insect Repellent Lotion (100ml)
Insect Repellent Lotion
DEET-free
Soil Association Certified 100% Natural
Organic and Vegan certified
100% Recyclable Sugarcane Plastic Packaging
Usable for the whole family, and suitable for babies 6 months old onwards
Contains Citrepel 75 PMD which is a more concentrated version of PMD than Citriodiol
PMD is recommended by WHO, NHS to protect against insects

Moisturises the skin and protects against insects and insect bites
Clinically tested formulation to provide 100% protection against Aedes aegypti (Zika and Dengue carrying) mosquitoes for 4.5 hours and good protection for up to 7 hours. Also effective against Anopheles gambiae (Malaria carrying) mosquitoes. They are manufactured using our unique secret process which in clinical testing extended the duration of efficacy.

Our insect repellent lotion is DEET-free and does not contain other harmful pesticides. Incognito® insect repellent lotion has been certified by the Soil Association as being 100% natural and can be used by the whole family including babies from 6 months onwards.

The active ingredient is 100% natural, plant-based PMD. PMD is NHS, WHO and Public Health England approved, and recommended for high-risk areas to protect against mosquito-borne diseases.

Citriodiol is a form of PMD similar to the version of PMD we use. Citriodiol is derived from the lemon eucalyptus plant. We use Citrepel 75® which is a more concentrated form of PMD.

It has 75% purity compared with Citriodiol which has a purity of 65%. Citrepel 75® is known for its ability to stave off viruses and its insect repellent properties. Look at our blog section for more information on this.

Incognito® has been independently clinically tested and is made in the UK to ensure the highest quality.

Certified Soil Association COSMOS Natural, the ingredients inside this product have been rigorously tested; there is no GM, and we never test on animals. A COSMOS Natural standard also ensures that both harmful environmental effects and waste production are minimized. Additionally, it uses 100% recyclable sugarcane plastic packaging!


Directions
Shake well before use. Massage onto skin when necessary, avoiding contact with eyes and other sensitive areas. During day time if you are exposed to the sun we recommend using our SPF30 suncream insect repellent instead and at night or when not exposed to the sun our Incognito ® lotion or spray.
Ingredients:
Aqua, Menthanediol (plant-based PMD), Glyceryl Citrate/Lactate/Linoleate/Oleate, Citronellol,  Succinoglycan, Xanthan Gum, Polyglyceryl-3 Caprate, polyglyceryl-4 Cocoate, Glyceryl Caprylate, Cinnamomum Camphora Leaf Oil*, Citrus Bergamia Peel Oil Expressed*, Tocopherol (vitamin E), Aloe Barbadensis Leaf Juice Powder* (Aloe) Linalool, Limonene. *Organic ingredients.  100% natural origin of total.
---
We Also Recommend